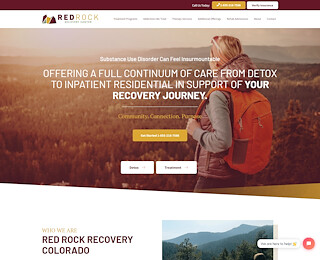 Many individuals who seek help for their substance abuse disorder may think that detoxification and rehab are the only processes necessary to recover fully. But far from it, recovery is a lifelong process that requires determination, commitment, and support from loved ones to maintain sobriety. As such, it's crucial to encourage your loved one to continue living a drug-free life.
At Red Rock, we're a reputable addiction treatment center. We'll help your friend or family member overcome their addiction. And once they're through with their treatment program, they are ways you can help them maintain sobriety.
How to Help A Loved One Stay Sober
After someone you care about has gone through rehab, you can help them live a substance free-life with the following:
Conflicts in the family can cause a person in recovery to relapse. Fighting and disagreements are unpleasant for everyone but especially for individuals who have just left an addiction treatment facility. Providing your recovering loved one with excellent social support will lower their stress levels and ensure hey cope better. You can achieve this by:
Reassuring them constantly that you care and love them
Keeping an open mind during problem-solving, so they feel included
Working on communication that lowers tension and reduces conflicts.
Know the Red Flags for Relapse
Problems like addiction to alcohol or drugs are episodic, meaning it's easy to relapse. As such, you should ensure that you watch out for the red flags that suggest your loved one is using drugs again or is about to resume their old habits. For instance, if you notice a change in appearance, impulsiveness, or compulsive behavior, seek help from professionals at a rehab center.
Create A Substance-Free Environment
Being home, unlike at rehab, is filled with the temptation to go back to using drugs. It would help if you created a drug-free home environment such as removing drug paraphernalia to prevent relapses. Also, encourage them to avoid places that might trigger substance use.
Suggest to your loved one to join a support group after they're done with rehab. Such groups provide an opportunity to interact with people going through the same challenges as they are. There, they can receive the support and encouragement they need to remain sober.
Get your loved one involved in meaningful activities such as work, community involvement, school, or charity. These types of activities make one feel useful and motivate them to stay away from drugs.
Recovery is a long, complicated process that needs a lot of patience. Your loved one may make mistakes while in recovery. So, it's important to let them know that you'll still support them even if they mess up.
Staying Sober
We're committed to making sure that your loved one gets the help they need for their addiction. Our dedicated team provides both inpatient and outpatient treatment. If someone you care about is struggling with substance abuse, you can contact our addiction treatment center today for help on 855.218.7588.