At Red Rock Recovery Center, we strive to make sure that every client we treat can find lifelong sobriety. We also work to provide a support structure to ensure it. There are several aspects necessary to this recovery process. Effective treatments and support systems are essential, but so is the ability of each client to care for themselves. Red Rock Recovery Center started our life skills training program to fill a need we saw in many of the clients in our care.
Our younger clients, mostly ones who struggled with addiction for years, lacked many of the basic life skills essential to living a normal life post-treatment. Often these clients had been in and out of different rehab centers over and over. They could find little consistency in their lives at home or in treatment. Red Rock Recovery Center's life skills training program aims to fix this issue.
What Is Red Rock Recovery Center's Life Skills Training Program?
A problem that many addiction treatment centers see is that so many of their teenage to young adult clients are practically unable to care for themselves outside of their home environments. This includes basics such as cooking or laundry to other professional and essential life skills. There are considerable gaps in where these clients are compared to others their same age. Of course, individual counseling can only go so far. The life skills training program works to help teach many of these essential skills to our younger clients while they receive addiction treatment simultaneously. Clients who undergo life skills training leave Red Rock more capable of taking care of themselves. They can provide themselves with a life worth living.
The Advantages of a Life Skills Training Program
There are several distinct advantages to an addiction program that includes a life skills course. In fact, it helps to solve one of the significant issues that young people face upon becoming program alumni. Especially prevalent with those who have to repeat treatment, young clients are finding themselves overly reliant on their parents at home and the treatment center staff when in rehab. When this goes on for too long, clients are practically unable to care for themselves or their health. However, life skills training programs can help fix these issues. Life skills training programs can teach many things, such as:
Cooking and cleaning
General personal care
Interviewing and job placement
Professional training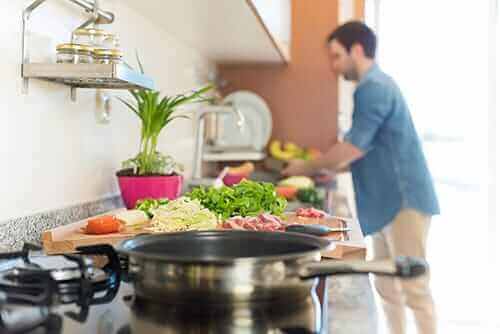 For a client without one or all of these necessary skills, creating and maintaining a lasting sober life can be difficult. Teaching general hygiene and personal care is, unfortunately, sometimes necessary to ensure a successful transition to normal life. Furthermore, by supplying job skills training and employment help, Red Rock Recovery Center hopes to provide our clients with an easy avenue to success and happiness post-treatment. We utilize professional trainers as well as our deep ties to the community to provide clients with the skills and opportunities necessary to build their lives back up. Your recovery journey does not end when you leave Red Rock, and our assistance does not stop there either. You can feel confident and assured in the treatment and support you will receive at Red Rock Recovery Center.
Find Life Skills Training to Ensure Your Recovery
For young people who feel unable to provide for themselves after treatment, a life skills training program is ideal. The goal of this addiction therapy service is twofold: They provide the addiction treatment you need while giving you a foundation of applicable skills to make the most of your clean slate. Through our employment training and business connections, you could leave treatment set up for a brand new level of success. Discover the benefits that Red Rock Recovery Center's life skills training program offers. Your work today can change your tomorrow. Call (855) 218-7588 now.