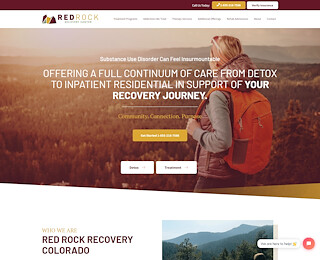 RedRock Recovery Center is one of the preeminent treatment centers in Colorado with the best accommodation, amenities, treatments, and therapies. Our highly experienced team of staff work 1-on-1 with each of our patients and ensure holistic recovery.
Therapies we use to treat addiction
We are a licensed treatment facility with the best team of staff that works closely with each of our patients, and come up with a customized treatment plan. Some of the therapies we use in addiction treatment include:
Individual Counselling – Our team of mental health experts and psychiatrists sit with patients to conduct 1-on-1 sessions, where they identify and learn about the root cause of addiction in patients. By understanding the underlying mental disorder, we design the most effective treatment plan to help patients overcome dual diagnosis.
Family and group therapy – We strongly believe that family and group therapies play a pivotal role in the recovery of an individual. We offer counseling in family and group settings for recovering addicts and help them overcome their unresolved issues with their loved ones and members of the family.
Holistic therapies – We use a lot of naturopathic therapies along with scientific treatments to help individuals embrace sobriety. We engage our patients in therapies like meditation, yoga, massage therapy, nature walks, nutrition therapy, etc., all of which help individuals regain their footing and attain improved physical and mental wellness.
Furthermore, we also conduct 12-step programs, teach essential life skills to recovering addicts, and offer trauma-integrated care to our patients. We are one of the affordable treatment centers in Colorado, with excellent amenities and accommodation facilities for recovering addicts.
Types of holistic addiction therapies
Holistic therapy encompasses a broad array of treatments. Some of the holistic treatment that we offer at our rehab include:
Nutritional therapy – We nourish the mind, body, and soul of our recovering addicts with highly nutritious and well-balanced meals.
Exercise, yoga, and nature excursions – Regular exercise and yoga therapy helps individuals attain physical fitness and clears their mind off negative thoughts and false beliefs. Exercise and yoga also help relieve stress and helps build a routine. We constantly organize nature excursions and outdoor programs to help our patients get some fresh air.
Meditation therapy – We offer guided meditation sessions to our patients to improve their focus, cognitive abilities, and to help them attain peace of mind.
The value of family therapy in rehab treatment
Family therapy plays an integral role in helping reconstruct family issues and improves family functioning. By unfolding unresolved topics, members of the family open up about their feelings and emotions to the recovering addict in the presence of a skilled therapist. Family therapy lays the groundwork in helping recovering addicts return to a supportive and loving environment at home after treatment. It also reduces the chances of relapse significantly in patients.
To learn more about RedRock Recovery Center and our addiction treatment approach, visit https://www.redrockrecoverycenter.com/contact-red-rock-recovery/ or call us now at 855.218.7588. As one of the top-rated treatment centers in Colorado, we have the best inpatient, PHP, outpatient, and structured sober living programs.