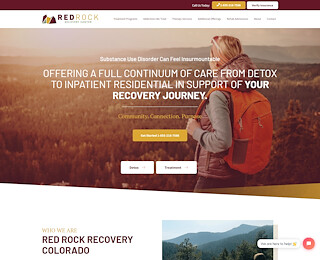 RedRock Recovery Center is a professional substance abuse treatment facility providing one of the most effective and reliable sober living programs in the United States. We're passionate about supporting the recovering individuals and serve as their bridge between the rehab and mainstream society.
What are the signs you need to join a sober living environment?
The following are some crucial reasons why you shouldn't hesitate to enroll in a sober living home:
You've been able to complete rehab successfully.
You don't feel ready to stay on your own, but you want independence.
You need a support system.
You show determination to maintaining sobriety
You want to interact with like-minded people
Your family relationship is contentious
You need reliable help with your social life
You're afraid of relapse
Your neighborhood can't support recovery due to easy access to drugs or alcohol.
If you're on your path to recovering from substance abuse but don't feel comfortable jumping back to the outside world, a sober living community may be your solution and key to your recovery. The main reason you need to enter a sober living home is that you need help to stay clean and re-enter the "real" world as a productive member of society.
How to choose the best sober living house
With an extensive range of different sober living homes available, it's critically important to understand what program fits your needs and help you maintain sobriety. The following are some reasonable considerations to help you pick one of the most exceptional sober living programs to give you the necessary support you need to stay clean:
Facility location
Length and cost of the program
Structure and house rules
Program accreditation and licensing of the program
Safety
Communication with your rehab
Qualifications and experience of the staff
Program reputation
Availability of 12-step meeting obligations
Your personal interests
If you don't have a car and rely on public transport, be sure to select a program within reach of food, work, home and meetings or simply pick a program that provides transportation services.
The unmatched sober living environment near you
We're the most reliable and unparalleled sober living community in Colorado, offering the most effective services you can never find anywhere else. Our goal is to help the individuals in recovery maintain abstinence and become active members of their society.
The following are some excellent attributes that make us sober living home stand out from the rest:
Well-maintained accommodations
Education and employment assistance
Reliable transportation services
A secure and stable environment
Group support
Personal responsibility
Competency and experience
Compassionate care, etc.
Choose a perfect sober living home.
Are you or someone you love is feeling hesitant to jump back into normal life? Don't worry because you may not have to. Our sober living home is ideal for you.
If you are ready to enroll in one of the most excellent sober living programs in the U.S? If yes, choose RedRock Recovery Center to get the proper help you need to maintain sobriety for the long term. Please, contact us now to book your room.