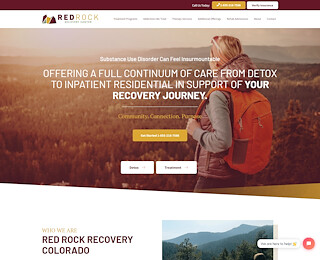 If you're looking for the most advanced and reliable sober living program to support your recovery after completing substance abuse rehabilitation, you're in the right place. RedRock Recovery Center is a professional addiction treatment center providing excellent transitioning from rehab to mainstream society.
What factors should you consider when finding a sober living environment?
It's essential to consider the following crucial factors when finding a sober living environment to ensure you make the right choice:
Recovery support services
Safety and serenity of the facility
The maintenance of the accommodations and compound
Cultural awareness and competency
Education, employment, and housing assistance
The location of the facility
Length and cost of the program
Additional amenities and benefits
The balance between structure and independence
The reputation of the facility
Excellent staff to client ratio
Qualities of staff members and facility owners
The house rules
Working kitchen and bathrooms
If you or a loved has been able to complete a residential drug or alcohol rehab program, you shouldn't hesitate to enroll in a sober living home to continue your recovery journey. While there're myriad options to choose from across the United States, it might not be easy to pick your perfect transitional housing program. However, with the above considerations, you can be sure of finding the best choice for you.
What to expect from a professional sober living home
Sober living houses give recovering individuals consistent and comfortable housing away from home while they learn how to cope with daily life stressors without drugs or alcohol. Staff members provide guidance, support accountability, and structure while residents bond over their different experiences of living in recovery to achieve long-term abstinence success.
Besides that, you can also expect the following from a competent and reliable sober living program:
Maintain your sobriety.
Random drug or alcohol testing.
Pay house rent.
Take care of your personal maintenance.
Do house chores and shopping.
Limitations on certain medications and possessions.
Abide by house rules
Limitations on visitors.
Also, expect sanctions for violating the rules, etc.
Benefits of joining our world-class sober living environment
In our leading-edge sober living home, you'll have access to abundant resources and meet other individuals with similar goals to yours–the main one being maintaining sobriety.
Here's a list of some of the many top benefits of living in our transitional housing program:
You won't face returning to the real world alone.
Time and assistance planning for your sober life
Learn more about yourself
Professional and peer support, etc.
Join a highly-rated sober living community
Your life after rehab matters a lot, and it can significantly impact your ability to maintain permanent sobriety. The most successful way to stay on track with your recovery is by joining a sober living community to support and strengthen you to cope with the ups-and-downs of the outside world.
If you're ready to join a top-rated sober living program, RedRock Recovery Center is waiting to receive you. Please contact us now for more information about our services.