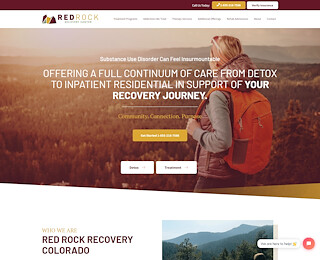 RedRock Recovery Center is a highly-rated and reliable addiction treatment center providing an excellent sober living IOP to individuals exiting rehabilitation programs. If you're looking for a program to support your recovery without missing your daily life responsibilities, our sober living intensive outpatient program is here for you.
Why do you need to enroll in an outpatient sober living program after rehab?
If you or a loved one is recovering from substance abuse or addiction, here're some important reasons to enroll in an outpatient sober living program:
Lower cost
No disruption in daily routine
The treatment program is highly individualistic.
You'll increase your chances of staying sober.
You'll learn the skills and techniques that promote healthy living.
You'll learn lessons that'll help you be productive in all areas of life.
You'll have an outlet to discuss any personal issues you're facing.
This program will also address other life issues such as employment, education, housing, etc.
After alcohol or drug addiction treatment, getting support from a sober environment is crucial to building long-term sobriety. So, if you want to achieve success in your recovery without interfering with your daily schedule, you should choose an outpatient sober living environment to get the right help.
Essential questions to ask when finding an outpatient sober living program
A sober living environment is an essential step between a drug rehabilitation program and reentering mainstream society. Choosing the right sober living home is a crucial element of the recovery process. Of course, all sober living programs aren't the same, and you may thrive better in one house than you can in others.
If you're considering a sober living IOP (intensive outpatient program), ask the following questions to ensure you find the perfect fit:
What are the costs?
What are the rules?
Is the program registered with authorities?
What's the average length of the program?
What services do you provide?
What is the policy if a client relapses?
What's your staff to client ratio?
What's your success rate?
What makes your program better than others?
The most excellent outpatient sober living program
We're the leading and the only addiction treatment center providing the most effective transitional services under an intensive outpatient basis. The following are some social components that boost the success rate of our sober living program:
Professional support
Education and counseling
Empowerment
Low resident to staff ratio
Transportation
Zero-tolerance policies
12-step programs therapy and other recovery activities
We believe in perfection and work hard to ensure our clients can get the support and necessary skills to live a healthy, sober life.
Enroll in a top-rated outpatient sober living program
When exiting a substance abuse rehabilitation center, you may be eager to resume your daily life routine but afraid of relapsing. To that end, you need to find a professional, reliable, outpatient sober living program to support your recovery without disrupting your day-to-day activities.
You can't afford to wait another minute. Make the wisest decision by visiting RedRock Recovery Center and enroll in our unsurpassed sober living IOP. Please contact us now to get your help right away.