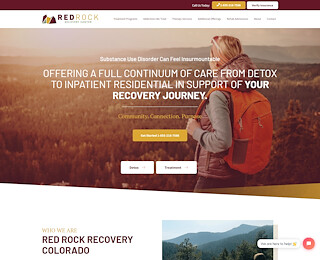 Are you looking for the best and reliable sober living in Colorado? If yes, RedRock Recovery Center is here to offer you high-quality recovery support and operate as your firm bridge between addiction treatment and the real world.
What is exactly is sober living?
Sober living refers to secure housing, and supportive living conditions for individuals exiting rehabilitation programs in facilities called sober living homes, houses, or environments. Sober living homes serve as a transitional environment between substance abuse treatment centers and mainstream society. Some settings also accept those still recovering from addiction but haven't been able to complete rehabilitation programs.
Sober living houses are drug- and alcohol-free living environments to ensure a safe place for people attempting to maintain abstinence from substance use. These facilities consist of highly-trained psychiatric nurses and registered clinical social workers who provide residents with round-the-clock supervision and in-depth recovery care.
Benefits of sober living
Your home life can have a significant effect on your ability to stay in recovery after completing substance abuse treatment. A contentious family relationship or unsafe neighborhood that makes it easy to get alcohol or drugs may result in a higher risk of relapse. For this reason, you should consider going through sober living because returning home after rehab isn't a better choice for anyone looking to maintain substance abstinence.
An ideal sober living in Colorado might be your effective way to overcome the challenge of transitioning from rehab back to the society that's full of potential pitfalls on the road. This program can prevent relapse while strengthening your self-confidence and the skills you need to remain in recovery for the long term. Besides that, here're more benefits that stem from sober living:
Constant support and guidance
Restoration of powerful life skills
Developing meaningful, sober relationships
Smoother transition to mainstream life
Group therapy
Developing new healthy routines, etc.
The most excellent sober living program in Colorado
Our top-rated sober living program focuses on promoting recovery and an influential fellowship to create a firm recovery foundation for years to come. We engage our clients in 12-step programs while providing them with a setting to learn that recovery and sobriety can be fulfilling and fun. On the other hand, we help our clients to abandon old ideas and beliefs while exploring a new way of living and putting coping skills into practical application.
The following some of many elements of our high-quality sober living program:
Peer and staff accountability
Resume building and job placement support
Frequent outdoor activities
Transportation to and from the facility
Supervised gym access
Wi-Fi internet access and much more
Enter a world-class sober living program
If you or a loved one is exiting a substance abuse treatment program and looking to get reliable support to maintain sobriety, sober living is the way to go.
Worry no more about where to find the most advanced and fruitful sober living Colorado has to offer. Check into RedRock Recovery Center to get the help you need to stay on track with your recovery. Contact us now, and we'll be happy to assist you.