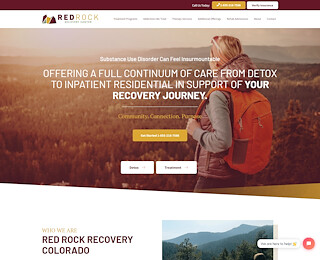 Are you looking for the leading facility among the top-rated residential treatment centers in Colorado? If yes, you're in the right place. RedRock Recovery Center is a preeminent live-in rehabilitation facility offering the most effective addiction and mental health treatments Colorado has to offer.
What is a residential treatment center?
A residential treatment center (RTC) or residential rehab is a live-in health care facility offering comprehensive therapy for substance abuse, mental issues, and other behavioral problems. This program requires struggling individuals to leave their homes and reside and reside in the facility for stays that range in length from 28 days to 6 months and beyond.
At residential treatment centers, you can access a higher level of care than you can get from other types of treatment programs. The following are some of many treatments and therapies you can receive in residential rehab:
Medically-assisted detox
Cognitive-behavioral therapy (CBT)
Dialectical behavioral therapy (DBT)
Educational lectures and discussions
12-step recovery meetings
Family, group, and individual therapies
Complementary therapies, such as yoga, massage, meditation, acupuncture, etc.
Relapse prevention education
Motivational intervention
Life skills training
Animal-assisted therapy
Medication management
Dual diagnosis treatment
Aftercare services and much more
Benefits of checking into a residential treatment center
If you or someone you love is struggling with substance abuse, it's in your best interest to consider seeking admission in residential rehab for proper and effective treatment. A lot of people balk going to a residential treatment facility, but when they think about the benefits, they can't hesitate to change their minds.
It's challenging to leave your home to seek residential addiction treatment, but there're numerous reasons that this program might be the right and productive plan for you. Here're several benefits of enrolling into one of the reputable residential treatment centers in Colorado:
Professional and peer support
No access to drugs or negative influence
24-hour care from experienced therapists
Complete focus on the self
Safe and comfortable detox
News friendships
Balanced diet
Therapy options
Follow-up care after treatment completion, etc.
The most excellent residential rehab in Colorado
Overcoming substance abuse is tough, but it'll be much more comfortable with our professional help. Our goal isn't only treating addiction symptoms but also the underlying issues leading you or a loved one to use drugs.
The following are some top attributes that make us the top best residential rehab in Colorado:
Onsite detox and medical care
Innovative approaches to recovery
An attractive and inviting environment
Evidence-based therapies
A focus on nutrition
Family involvement
Program accreditation and licensing
Expert leadership
The highly-trained and compassionate staff
Personalized treatment plans
Aftercare planning, etc.
Join the most competent residential rehab center in Colorado
If you're looking to overcome substance abuse as adequately as possible, it's certainly in your best interest to consider checking into a residential rehab to achieve a successful recovery.
Join RedRock Recovery Center–the leading-edge rehab among many residential treatment centers in Colorado–to get the proper and fruitful addiction treatment you're looking for. Please contact us now to speak with a professional at our Colorado facility.