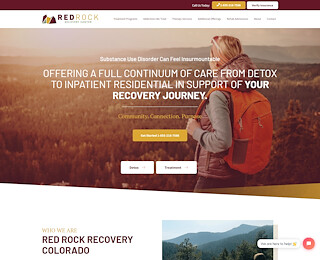 What do you need a drug and alcohol rehab facility to do for you? The benefits of drug and alcohol rehab go far beyond the walls of a rehabilitation facility. If you truly want to turn your life around, find peace, and repair relationships, don't hesitate to explore how drug and alcohol rehab can help you. We at Red Rock Recovery Center offer affordable, individualized, and evidence-based treatment that helps you or your loved one heal and restore hope. Below are some of the benefits of completing your drug rehab.
Learning how to set goals
Rehab facilities in Colorado introduce addicts to set realistic goals while also offering the best tools for achieving them. While several addicts may have certain goals throughout their addiction, many of them fail to meet these goals. This is usually because their mind is altered and controlled by the substance they consume.
A drug rehab center helps addicts to meet their goals. And once you or your loved one enters rehab, you will be able to set more realistic goals. From this facility, you will be taught the best way to achieve these goals. These goals are not just beneficial to recovery; they are the pathway to a happy and healthy life.
Uncover the underlying problems
People have several reasons for getting addicted to drugs and alcohol, but do you know what draw you towards the substance initially. Do drugs and alcohol help you numb, so you don't feel physical or emotional pain? Is the substance a means to help you manage stress?
It is important that you dig deep into the underlying issues to understand what is behind your addiction to the substance. Counselors at Red Rock Recovery Center are trained to help you or your loved uncover these issues, make sense of them, and help you create a new habit that doesn't rely on the use of the substance.
Create healthy boundaries
Addicts usually take little to no responsibility for their actions while family and friends take on most of this responsibility. The personal borderline that usually helps drive a healthy relationship is usually unclear or distorted to an addict in a family. What comes out of this type of relationship with ill-defined boundaries is a mentality that is based on survival. With a reputable rehab like Red Rock Recovery Center, you can be assisted in understanding the places you have issues and show you ways to keep healthy boundaries.
Building new practices and habits
Throughout addicts stay at rehab facilities in Colorado, they learn new practices and habits that revolve around a healthy lifestyle. This may be anything from proper exercise and nutrition to discipline and self-care. Learning these new practices and habits gives you the things you need to adopt them into your new life. More importantly, the new habit and practice will help keep you on the road to sobriety and live a healthy lifestyle.
Overcome addiction with the help of Red Rock Recovery Center
If you are ready to find a rehab facility in Colorado and take the first steps towards recovery, contact Red Rock Recovery Center today.