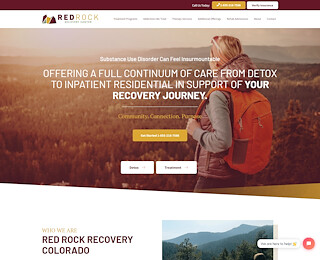 The best rehab centers in Colorado are the ones that put the needs of their clients above all else. One of the top rehab facilities that are known to provide excellent care is Red Rock Recovery Center. Over sixty five percent of the inmates placed in American correctional facilities meet the medical criteria to be considered an addiction. In most cases like these, those who suffer from addiction do not receive the medical or mental help they need.
While the American Medical Association classifies addiction as a medical disease, the American courts and justice systems are still sending drug offenders to prison. Those who become incarcerated due to drug related charges are sixty eight percent more likely to become repeat offenders, according to the Bureau of Justice Statistics. Substance abusers that don't receive the help they need often find themselves involved in the criminal justice system.
Traditional and Holistic Therapies
At Red Rock Recovery Center, we are known for providing traditional and holistic treatment options. The input and preferences of our clients are taken into advisement when treatment plans are created. Each patient receives an individualized recovery program that is customized to meet their mental and physical needs. At Red Rock Recovery, we believe in locating the root of the addiction to achieve freedom.
Letting go of the past means taking the first step into your brand new future. Relearning how to lead a sober life can be a lifelong journey for some patients. With our crew at Red Rock Recovery Center, you will never venture along that path alone. A twelve step program and partial hospitalization services are just a part of what patients can expect from our facility.
Multiple Types of Therapy Services Offered
Recovering from drug or alcohol addiction is not only a physical battle, but it is also an emotional one. Patients are required to attend some form of mental health therapy to help face the mental effects addiction can have. Family and group therapy are popular options, but not everyone feels open enough to share their feelings in front of other people.
Individual and private therapy offers a confidential environment for patients to explore their mental health. Patients are taught mental health tools to aid them in future real life situations. Learning how to control your mental cravings is an important part of achieving a sober life.
Learning New Skills and Exploring New Horizons
One of the unique aspects of the Red Rock Recovery Center is that a special life skills training program is available to patients of all ages. Statistics have shown that many adults never learned basic life skills to achieve success and peace in life. As teenagers, many people aren't taught how to create a consistent living environment that is safe and clean.
The main goal of this program is to help former addicts learn how to develop a stable home life. Recovering patients achieve more success if they live in a supportive and reliable environment. Individual therapy is one small part of this overall educational program.