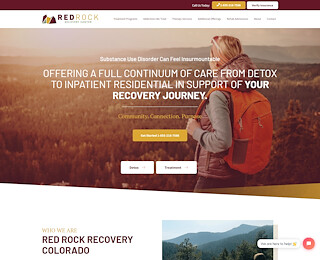 After deciding to seek addiction treatment from drug rehab, choosing the right rehab program to meet your needs and circumstances is vital. While the United States is flooded with thousands of rehabilitation centers, getting a provider to assist and walk you down a successful recovery is guaranteed. Among all, Red Rock Treatment Center stands as one of the best rehab centers in Colorado to help tackle any of your addiction challenges.
However, the availability of massive options out there even makes the selection process for the right rehab more cumbersome. There are a variety of essential factors to consider while conducting some research before making a selection. Selecting the right rehab center facilitates the success of your recovery program and also maintaining your sobriety in the future.
Having an in-depth knowledge of what to look out for in a program saves you time and energy. When you can identify the right qualities required of rehab, you would accurately choose a facility that can appropriately meet your needs. We've compiled a few simple and essential tips to make your rehab selection process more comfortable.
Rehab Specialties
All rehab centers have different addiction treatments they specialize in, for instance, alcoholism or patients with a dual diagnosis. Outside their specialities, most rehab has more significant success than the others in treating some addictions. Selecting a rehab facility that specializes in treating patients with your specific needs is essential, and also with a confirmed positive track record of treating them.
Amenities
The available amenities in possession of various rehab centers are the greatest and obvious differentiator between them all. Many rehabs provide an extremely luxurious standard of living just like a five-star hotel. At the same time, there are some rehabs with basic but fully-functional amenities, which can help patients attain the sobriety they seek. Eventually, most rehabs possess a wide range of amenities, which implies that finding the right rehab with adequate facility wouldn't be a problem.
Cost
Many treatment seekers consider price as the most significant factor in choosing for themselves the right rehab. However, cost varies depending on the length of stay, facilities available, and programs patients get involved in. Luckily, patients can pay for their rehab via various convenient payment options, which means that your budget could be met.
Treatments and Therapies
Treatment models and therapies for alcohol and drug addiction are available in different options. Finding the right rehab with the treatment that works best for you would be of great help. In-depth research on types and styles of treatments offered will enable you to know the right treatment you need. It will also allow you to narrow your search towards rehabs that provides such treatment.
Rehab programs offering very few types of therapy might not be able to meet you're your needs. A standard program will offer varieties of treatments to help its patients achieve and maintain sobriety as they continue their recovery journey.
Diligence and sensitivity play a significant role in choosing a rehabilitation program as it's a life-changing decision. With the right information and knowledge at hand, you can easily find the program that best fit your needs.
Look no further; Red Rock Treatment Center is ranked among the best rehab centers in Colorado. We've got all it takes from the right facilities to well-structured programs, all of which are aimed towards a successful recovery. Reach us today for more information and enquiries.