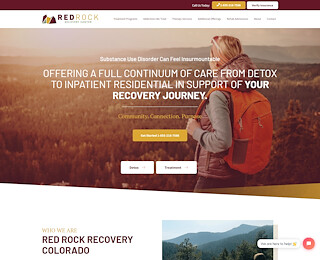 Since the outbreak of the 2020 pandemic, most rehab admissions are being conducted by utilizing the power of the internet. At Red Rock Recovery Center, we are still currently accepting new patients who are in need of help. However, since the outbreak of the COVID-19 virus, we are taken special precautions to protect the safety and health of our staff and clients. Those who are looking to discuss their rehab options can reach out to us via phone or by video chatting. New admissions are being conducted via telehealth services, but that doesn't mean that the quality of our services diminishes in any way.
Seeking help for an addiction takes strength and courage. Admitting you have a problem that you need help with can be one of the hardest things you ever do. At Red Rock Recovery Center, we understand that you expect the best quality care in a safe and clean environment.
The road to recovery is not one that is paved or smooth. Instead, it is a unique path for each individual. Some patients will find twists and bends in their recovery paths, while other patients backtrack along their paths.
Connecting to a Community
There isn't a one way street to living a healthy and sober life. Each client that comes to us is unique and special, which is why we are a great facility to turn to. Connecting with a recovery community via Red Rock Recovery Center can help build a rock solid foundation. With a good foundation, patients will be able to use the building blocks our substance abuse specialists teach them. Creating your own recovery story starts with you being brave enough to make a call or send an email. Special programs and therapies can still be utilized, regardless of the current state of the pandemic. Taking care of your mental health is just as important as taking care of your physical health.
Partial Hospitalization and Sober Living Programs
Every patient that comes to us has a story to tell, and we want to hear it. Through our many programs, patients will find the best options that suit their needs. From partial hospitalization to detoxification to sober living programs, our facility offers a huge selection of rehabilitation services. Not every addiction can be treated using the same techniques, which is why we strive to offer a multitude of treatment options. The main goal of our facility is to help our clients make connections with substance abuse specialists and treatment programs that are effective.
Similar Admissions Process
The process of admissions isn't much different than our traditional methods at Red Rock Recovery Center. In most cases, telehealth services are used to integrate new clients into our programs. The same basic information will be required to develop an innovative treatment program that is personalized. Most private insurance plans are accepted by Red Rock Recovery Center. Don't be afraid to take the plunge into a brighter tomorrow by getting clean and sober. You never know what is around the next corner in life.
Rehab Admissions