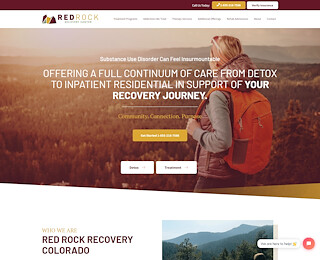 As one of the peak outpatient dual diagnosis treatment centers, RedRock Recovery Center offers highly effective rehab programs for dual diagnosis. With a combination of therapies like activity and outdoor programming, family support groups, individual counseling, and other evidence-based modalities, we help patients attain holistic recovery.
Overcoming dual diagnosis with outpatient rehab
Outpatient rehab is for those who are in the early stages of addiction. Outpatient therapy helps overcome mild levels of addiction in outpatient treatment settings, and patients attend rehab programs for 1-2 hours a day, 5-6 days a week. In outpatient therapy, therapists engage patients in a variety of psychotherapies, 1-on-1 counseling sessions, and 12-step programs.
Also, if you are unable to take time off from work, school, or family commitments, outpatient therapy may be the best treatment option for you. Outpatients programs are also equally effective in helping patients attain sustainable sobriety.
How does addiction aggravate mental health issues?
Individuals with mental health conditions like anxiety, depression, post-traumatic stress disorder, bipolar disorder, etc., often self-medicate themselves to overcome withdrawal. However, this can further aggravate the mental health issues along with triggering new substance abuse problems.
Individuals feel a 'high' when they take drugs, and once the effects the drug starts to falter, they experience a plummeting low, which can have devastating effects on people with depression and mood disorders. Also, in an attempt to stay in an elevated mood for longer periods, individuals with mental health issues try to take frequent doses of drugs or administer drugs in larger doses, which can lead to irreversible damages to the brain, liver, and heart.
What is a dual diagnosis?
Most individuals with a substance abuse disorder or addiction problem also suffer from an underlying mental health condition. Often, these underlying mental health problems become the root cause of what triggers addiction in the first place. When patients suffer from a mental health issue along with addiction, it is called a dual diagnosis.
Treatment for dual diagnosis requires a customized treatment plan with a focus on addressing the underlying mental health issue. We are one of the highly acclaimed outpatient dual diagnosis treatment centers with evidence-based treatment modalities and the best team of mental health experts and therapists.
Warning signs of a co-occurring disorder
The symptoms of dual diagnosis can vary from one person to another to a great extent. Also, your symptoms can differ depending upon the type of substance abused, the period of abuse, frequency of abuse, etc. You may have a dual diagnosis if you have one or more of the following symptoms:
Sudden change in behavior or feeling erratic emotions and moods
Finding it difficult to manage routine tasks and responsibilities
Avoiding events, parties, and gatherings with friends and family members
Poor hygiene
Sudden unexplained weight gain or weight loss
Disillusioned thinking and difficulty to focus
Suicidal thoughts and self-harming behaviors
Poor performance at school or work
RedRock Recovery Center ranks among the top 10 outpatient dual diagnosis treatment centers in Colorado. Our programs include 12-step programs, PHP treatment, family programs, extended care programs, and IOP therapy. If you need urgent assistance, you can visit https://www.redrockrecoverycenter.com/contact-red-rock-recovery/ or call 855.218.7588