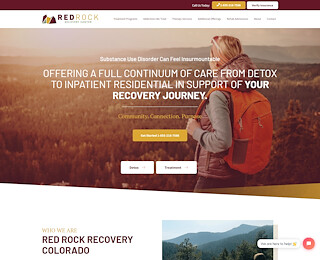 It is essential to know that there is no such thing as a treatment that is crafted as a one-size-fits-all program. When it comes to mental health and addiction, the two tend to go hand in hand. This is why it is essential that you look for quality outpatient dual diagnosis treatment that will give you all of the support that you need to be successful in your journey into sobriety.
When it comes to recovery, drug addiction and mental health may be distinct in nature, but these two conditions do overlap for almost all addicts. This is why it is best that you seek help from a staff and therapy team that is committed, compassionate, and fully understanding of your needs. You are not alone, and you are not the only person that is going through the course of addiction. Our team here at Red Rock Recovery Center is ready to make sure that you have a successful journey, and all of the support you need to reach your goals.
What Is Dual Diagnosis Treatment?
We want our patients to know that our facility addresses everyone on an individual basis. This also means making sure that we take a look at co-occurring substance abuse, issues surrounding addiction, and a range of mental health conditions, such as:
Depression
Anxiety
Bipolar disorder
Eating disorders
Sex addiction
Schizophrenia
Gambling addiction, and more
Often referred to as co-occurring disorder, dual diagnosis is the study of unique conditions that happen whenever someone experiences a type of substance abuse disorder and mental illness at the same time. Either of these can occur first, and one of them will often lend itself to the other one.
Why is Dual Diagnosis Treatment Best?
There are some instances when a mental health disorder is determined to be the root cause of addiction. If not treated as part of a dual diagnosis treatment, people who are dealing with bipolar disorder, depression, anxiety, or PTSD might feel as though they are trapped due to their mental health issues. This is a form of treatment that addresses both addictions as well as any of the underlying issues for a much better result.
Dealing with a mental illness can be difficult enough, but when you add addiction to the mix, it can be a dangerous path. Working with outpatient dual diagnosis treatment will give you the care and support that you need to be successful with your journey to sobriety.
When you give us a call at Red Rock Recovery Center, our staff will walk you through the steps for intake and go over any questions or concerns that you may have. We have formulated a series of phases to help you dig deeper to address the impact that drugs have had on your underlying mental health issues. When it comes to outpatient dual diagnosis treatment, we have a beautiful facility and a highly trained and professional staff on hand that will ensure you have everything you need to achieve your sobriety goals. Give us a call at (855) 218-7588, and we will go over all of the ways that our facility is a cut above the rest.