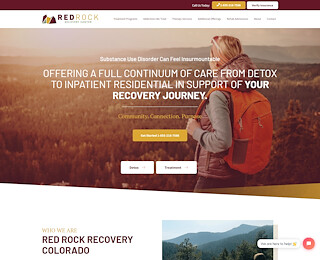 Today, there are almost as many drug rehab types as there are drug rehab patients! If you are looking for the best Lakewood, Colorado drug rehab, you might have a difficult time choosing between the many rehab types that exist. Red Rock Recovery Center would like to tell you a little bit about Lakewood rehab center and explain some of the common types of rehab facilities that we have in our area so you can choose the one that is right for you.
At Red Rock Recovery Center, we treat drug and alcohol addiction as well as mental health conditions. Red Rock Recovery Center is a world-class clinical drug and alcohol rehab with a holistic healing focus. We use the best of traditional addiction treatment, including AA/NA meetings and the 12-steps, and we also use the best of modern, science-based treatment. Our aim is to provide comprehensive customized treatment for each patient whom we care for. Contact Red Rock Recovery Center today if you would like to learn more about our treatment programs or rehab facility.
5 Types of Rehab Centers in Lakewood Colorado
To help you select the drug rehab in Lakewood that is best for you, please consider the following types of rehabs that are common locally along with the pros and cons of each:
1. Free Drug Rehab
Believe it or not, there are some free drug and alcohol rehab programs in Denver, CO. For example, the Rescue Mission and the Salvation Army are two places that provide free rehab. If you are a person with no money to pay for rehab and or no insurance, one of these programs might be right for you. You will have to follow their rules, but at least there are free options for people who need them.
2. Gender-Separate Rehab
This is one of the greatest features of Red Rock Recovery Center. We provide men and women-only rehab programs. We want our patients to be focused on nothing other than sobriety and recovery while in our care, and we separate the sexes to minimize distractions.
3. Spiritual/Religious Rehab
At Red Rock Recovery Center, we encourage all people to express and practice their faith as they see fit, but we are not a religious or spiritual rehab. We respect everyone's right to practice any religion or no religion at all, but we do not force or promote a specific religion.
4. Luxury Rehab
Luxury rehab isn't a luxury for everyone. For many people, luxury rehab is a necessity. There are plenty of luxury rehabs in Denver, and they tend to be much more expensive than other types of rehabs, but residents enjoy amenities and activities that are often associated with five-star resorts!
5. Private Rehab
Red Rock Recovery Center is a private rehab. Sometimes, we have high-profile, even affluent people who attend rehab in our facility. We guarantee the privacy of each one of our patients, and this is important to many people. If privacy is important to you, consider a private Lakewood, Colorado drug rehab.