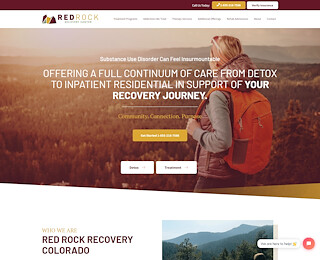 Red Rock Recovery Center is the leading facility for intensive outpatient (IOP) treatment in Denver. If you were to google 'IOP facility near me,' you might be surprised by just how many facilities and outpatient treatment programs there are from Denver to Boulder and Fort Collins. There are literally hundreds of treatment facilities offering some form of outpatient treatment for drug and alcohol addiction, but it is important to recognize that not all rehabs are created equally.
Choosing a rehab facility is not a decision to be made lightly. Your long-term sobriety and success in recovery will largely depend on the rehab center that you choose. Of course, Red Rock Recovery Center invites you to contact us for a tour of our IOP facility near Denver or to speak with an addiction treatment specialist. We are here to help, but we also understand that our IOP facility may not be the best choice for everyone. Still, we want you to receive the best treatment possible. Please, consider the following tips when choosing an IOP facility near you so that you don't have any regrets and you optimize your chances of succeeding in recovery.
Call us if you have any questions: 855.218.7588
5 Tips to Help You Choose the Best IOP Facility Near You
People often ask, "How do I choose the best IOP facility near me?" use the following five tips:
1. Evaluate Yourself
Instead of looking outward for answers, look inward. Ask yourself how bad you want to get clean and stay clean from drugs and alcohol. Ask yourself what you are ready to give up if you need to in order to get sober, including your job, relationships, friendships, etc. Also, consider what's important to you in rehab. For example, do you want to attend an IOP program that offers one-on-one therapy, group therapy, family therapy, and other recovery programs? By identifying what's important to you, you'll be able to better choose a rehab center that suits your needs.
2. Start Your Research
Use the Internet to your advantage. Once you have identified what's important to you, begin your research. Google 'IOP facility near me,' and start reading about various facility's programs as well as evaluating their reviews.
3. Make a List of IOP Facilities
Although there are dozens – even hundreds – of IOP facilities near you, try to narrow down your selection about 5 – 10 IOP facilities that really catch your eye. Then, you can perform even deeper research.
4. Schedule a Tour at Each Facility on Your List
The next step is to schedule a tour at each of the facilities that you are interested in. Most rehab centers have a video tour on their websites, such as we do at redrockrecoverycenter.com. Still, it's always best to view each place in person so that you can get a better feel for what it will be like receiving IOP treatment there.
5. Listen to Your Gut
Ultimately, you are going to have to make a decision based on your intiution. Utilizing the information that you have and the research that you have done, you will need to select an IOP facility near you based on what your gut tells you.