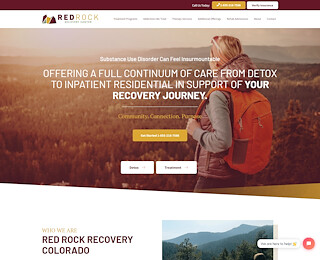 Is the Red Rock Recovery Center intensive outpatient program right for you? The best way to find out is to contact us directly and speak with our admissions staff or counselors. Red Rock Recovery Center counselors would be happy to speak with you and discuss your rehabilitation needs and goals. We'll listen to your circumstances and try to help you decide what the best path forward is for you. Intensive outpatient (IOP) care is ideal for some people, but for others, it's not a good idea. It depends on the individual, and this determination can only be made following a detailed assessment.
IOP comes with its own benefits and limitations. Again, whether or not IOP would be right for you depends on a number of factors that should be discussed with an addiction treatment specialist. Contact us today at the number below to begin the conversation and to get the help you need to overcome addiction. Please, don't wait until it's too late! Get the help you need now. Call Red Rock Recovery Center and speak with someone who can help you:
Is Intensive Outpatient Right for Me?
Not everyone who needs rehabilitation for drug or alcohol addiction can afford to spend 30 to 90 days in a residential rehab center. Of course, residential inpatient treatment is always the best option for people who have chronic addiction problems, but unfortunately, residential inpatient treatment isn't always a viable option for everyone. For example, some people cannot afford to take the required time off of work to check themselves into inpatient rehab, and others may have legal duties or other obligations that prevent them from putting their lives on hold long enough to receive residential inpatient treatment. Thankfully, there is IOP.
IOP is often the best choice for people who cannot afford to take time off of work. Intensive outpatient allows them to receive hands-on addiction treatment services, but they still get to go home and sleep in their own beds at night. On the other hand, IOP treatment can also be ideal for individuals who have recently completed or will soon complete residential inpatient treatment. IOP can help them make the transition from inpatient to outpatient and maintain much of the structure and support that they have in residential inpatient treatment.
About Our Intensive Outpatient Program
Red Rock Recovery Center is a professional clinical facility that respects the privacy of our patients. We have an impressive team of addiction treatment staff who care about people and want to help our patients overcome their addictions. We provide a full range of therapy services and treatment programs that are highly customizable according to the needs of each individual we treat.
Contact Red Rock Recovery Center today to learn more about our intensive outpatient program and to get the help you need with your addiction problem. Our addiction treatment specialists are the best in Denver, CO. We are here because we care. We want to help people. Let us help you.