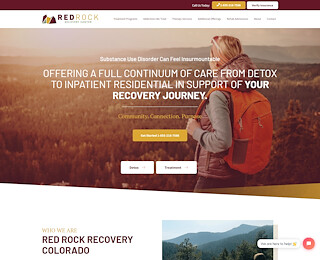 If you are interested in attending inpatient drug rehab at the best rehab center in Denver, please read more about our admissions process by clicking here. By clicking there, you can read about the insurance we accept and assimilate yourself to our rules and packing list. For example, if you will be entering our rehab facility in winter, you will need to bring snow/ski jacket, snow/ski pants, boots, snow gloves, etc. If you are entering our rehab center in summer, you will need to bring boots for hiking, a rain jacket, and outdoor attire. We spend a lot of time outdoors here at Red Rock Recovery Center, as we believe spending time in nature is key to recovery.
If you would like to verify your insurance, please do so now. Otherwise, you may contact us directly to speak with our staff at 855.218.7588. In the meantime, please consider some of the benefits of attending inpatient drug rehab at Red Rock Recovery Center.
Top 5 Benefits of Inpatient Drug Rehab at Red Rock Recovery Center
For the average person who is struggling with addiction, there are many benefits to inpatient drug rehab. Here are the top five benefits of residential inpatient treatment at Red Rock Recovery Center:
1. Get the Help You Need BEFORE it's Too Late
Most of us have lost a family member or loved one to addiction. When someone we love passes away due to their addiction, we often experience feelings of regret, as if we did not do enough to help them. Don't let your loved ones live the rest of their lives with
the same kind of regret. Get the help you need before it's too late.
2. Receive Customized Addiction Treatment
Red Rock Recovery Center provides highly customized treatment plans for each one of our patients. Rather than applying a cut and paste treatment program for all of our patients, we take the time to assess our patients and provide treatment that matches the need, considering each person's strengths and weaknesses and how best to accommodate them.
3. We Treat the Whole Person at Red Rock Recovery Center
Whereas most 12-step and traditional recovery programs focus on treating a single condition or symptom of addiction, Red Rock Recovery Center treats the whole person. We provide holistic treatment, addressing mental health, diet/nutrition, activities and lifestyle, and dual diagnosis.
4. We Accept Insurance
Red Rock Recovery Center provides an affordable, luxurious rehab experience, and we accept most insurance coverage. To find out if we accept your insurance or if your insurance covers rehab, click here to verify your insurance now by clicking the link above.
5. We Have the Best Addiction Treatment Specialists and Professionals Here
Red Rock Recovery Center is proud to employ the best medical staff in Denver. We use science-based therapeutics and psychiatry to treat our patients, and we have the best licensed and accredited staff to deliver quality treatment. Contact us today to speak with a licensed addiction treatment professional.