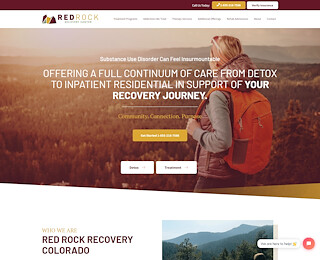 There are millions of people that die on a regular basis when they succumb to their addiction to opioids and other substances. If you or a loved one is going through a tough time while battling addiction, you need to know that you are not alone. You do have a wide range of treatments available to you, including reputable inpatient detox in Colorado at Red Rock Recovery Center. Not only are we a Colorado alcohol detox facility but we also have the care available to help you through safe and effective drug detox in Colorado with the best possible support team.
One of the options that have offered incredible results is medication-assisted detox. If you are interested in learning more, these are the top five benefits that come from entering into medication-assisted inpatient detox in Colorado:
Easier Management of the Symptoms of Withdrawal – Anyone who has been through detoxification will tell you that the withdrawal process can be extremely difficult to deal with. In some cases, it can be dangerous, especially if someone has become very dependent on alcohol or drugs. The withdrawals can become so bad that medication-assisted inpatient detox in Colorado is the best and safest option.
Lessen the Amount of Psychological Cravings – Addiction is something that can dig into someone on a psychological, emotional, and physical level. Working with a team at a luxury detox in Colorado will help you to stay on track and cut back on a lot of the psychological cravings that dependency on drugs will often have.
Medication Assisted Detox is Safe – When you want leading treatments that are second-to-none, you should know that medically-assisted treatment in a controlled setting often has little or no side effects on the patient.
A Higher Level of Comprehensive Treatment – By working to integrate medication into your program at a detoxification center in Colorado will help you to take on a more comprehensive plan. This may not be recommended for all patients, but the option to have prescription medication to get through the addiction withdrawal process is an advantage to many.
Drug Replacement – There are some critics who will say that using medication-assisted inpatient rehab is simply taking one addiction and replacing it with another. However, when used as prescribed and while under close supervision from trained professionals, this is a process that not only increases safety but also helps to cut back on the risk of future addictions.
Do you want to know more about the inpatient detox in Colorado that we have to offer here at Red Rock Recovery Center? We are unbeaten when it comes to staffing and treatment options, as well as amenities and success rates. Our staff would love to talk with you about your need for care for yourself or for a loved one who is dealing with addiction to drugs or alcohol. Call us today at (855) 218- 7588 or verify your insurance now by visiting https://www.redrockrecoverycenter.com/contact-red-rock-recovery/insurance-verification/ – we are always available to address whatever questions or concerns that you may have regarding medication-assisted inpatient detox in Colorado at our beautiful facility.