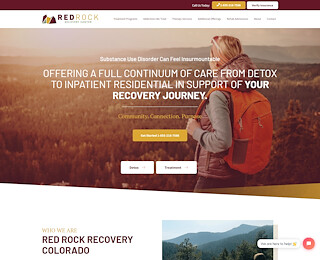 A lot of drug and alcohol treatment centers advertise their services for dual diagnosis in Denver, but only a small handful of these facilities are licensed to provide dual diagnosis treatment. Red Rock Recovery Center is one such dual diagnosis treatment facility in Denver, CO. Red Rock Recovery Center takes an outside-the-box approach to addiction treatment. We provide whole-person treatment rather than addressing surface issues and symptoms. To learn more about Red Rock Recovery Center, contact us at the following number:
What is Dual Diagnosis?
Dual diagnosis is very common in addiction. In fact, statistics show that as much as 56% of all people who check themselves into a drug/alcohol treatment center will suffer from a dual diagnosis disorder. A dual diagnosis simply means that the patient has both an addiction and an underlying psychological disorder, such as PTSD, bipolar disorder, social anxiety disorder, personality disorder, chronic depression, etc. It is not always clear whether the psychological disorder was present prior to the development of the addiction or if it manifested as a result of the addiction. Either way, the treatment is the same.
Why is Dual Diagnosis Treatment Important?
Since more than half of all people with addictions also have an underlying or co-occurring psychological disorder, it is important to evaluate all patients accordingly. However, diagnosing a psychological disorder can be difficult, and most drug and alcohol treatment centers in Denver overlook these conditions because addiction often fogs the mirror, so to speak. Because the symptoms and behaviors of addiction are often synonymous with symptoms and behaviors of many psychological disorders, these mental health conditions are often assumed to be traits of addiction.
Diagnosing a person with a dual diagnosis condition is vitally important to provide adequate treatment for them. Treating addiction without treating the underlying psychological disorder is incomplete treatment. This is why it's so important to get the diagnosis right, but of course, only licensed and trained medical personnel can provide these types of diagnosis accurately.
Diagnosing and Treating a Dual Diagnosis Disorder
As the leading dual diagnosis treatment center in Denver, Red Rock Recovery Center takes great pride in getting the diagnosis right. Our staff is fully licensed and accredited dual diagnosis therapists in Denver, CO has the best tools and resources for assessing patients and making an accurate diagnosis. Even in cases where a patient has been diagnosed with a psychological disorder already, we will not assume the diagnosis is correct automatically. We will take the time to interact with the patient, assess the patient, and determine if and what underlying disorder(s) the patient has.
Medication is not always necessary for every type of disorder and addiction, but there are times when science-based therapeutics will be applicable. Our licensed Denver dual diagnosis psychiatrists will work with you to develop a treatment and recovery plan that works with you rather than for you. We want our patients to be engaged in recovery and participate in activities that are healthy, wholesome, and uplifting. That's how we treat dual diagnosis in Denver.