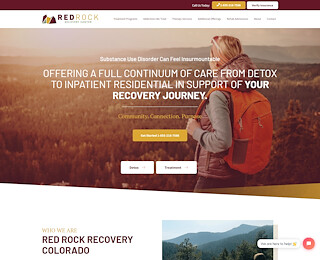 Red Rock Recovery Center is a center for drug treatment in Colorado. We are passionate about helping people get sober and recover from drug addiction. Addiction to drugs can lead a person down a dark tunnel, and Red Rock Recovery is the light at the end of that tunnel! Our addiction treatment specialists are highly skilled, highly trained, and highly passionate about helping our patients, and that is why we offer a number of customized addiction treatment programs. Our hope is to meet the needs of each one of our patients and thereby provide them with the tools and the foundation they need to succeed in recovery.
If you would like to contact us, please choose one of the following options:
Call us: 855.218.7588
5 drug treatment programs that we offer at Red Rock Recovery Center
At Red Rock Recovery Center, we offer a number of customized treatment programs to meet the needs of each patient who comes through our doors. Consider five of our recovery programs that are designed to help people get the most out of rehab:
#1: Individual Counseling
Red Rock Recovery Center invests more time and resources in one-on-one counseling than perhaps any other rehab and or recovery center in Colorado. Why? We have the best licensed psychologists and medical staff, and we believe that it is essential for individuals to speak with a licensed professional. We want to treat the underlying causes of addiction, not just put a 'band-aid' on the symptoms.
#2: Family Therapy
Some of our patients do not have relationships with their relatives, or the relationships have been frayed. Sometimes, we can help our patients to reconnect with their loved ones. In cases where the family is toxic or enables/encourages the patient to use drugs, we will not pursue family counseling. However, when and where it is possible and healthy to do so, we will strongly encourage our patients to engage in family therapy, as family members are often the best support system that people have in recovery.
#3: Group Therapy
Group therapy is an excellent tool in recovery. Group therapy allows you to connect with your peers, who may be going through many of the same challenges that you have. Group therapy helps to build support and comradery, which are crucial during your moments of weakness and when you have urges to use drugs.
#4: Outdoor Program
At Red Rock Recovery Center, we take a holistic approach to recovery. By reconnecting with nature and lots of time outdoors, you'll be a happier, healthier version of yourself. Outdoor programs should be part of every center for drug treatment in Colorado.
#5: Holistic Therapies
Human beings are inextricably connected to their environments and surroundings. In order to treat addiction and promote lasting recovery, it is essential that our patients treat their minds, bodies, and spirits. Eating a healthy, balanced diet, exercising, spending time outdoors, and engaging in therapies help to treat the whole person comprehensively and provides a strong foundation for lasting recovery.