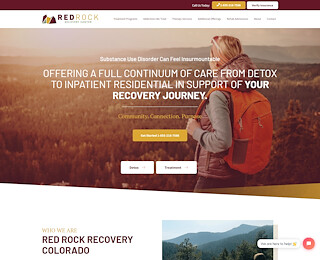 Red Rock Recovery Center is a reputed treatment facility for luxury detox in Colorado. With a combination of treatment like individual counseling, family and group therapy, outdoor program, 12-step program, and holistic therapies, we help recovering addict attain sustainable sobriety at our facility for drug detox in Colorado.
Can I detox at home?
Trying to detox at home can have fatal consequences. It is crucial to undergo detox in a licensed rehab facility in the presence of a trained clinical staff team. The withdrawal symptoms and side-effects of detox can be unpleasant and painful and can lead to adverse health consequences.
After detox, you need to be in the close supervision of a skilled medical team to manage your withdrawal symptoms and to attain a safe recovery. Furthermore, it is important to follow up on detox treatment with counseling, 12-step programs, and psychotherapies to achieve comprehensive and sustainable recovery.
How to choose a drug detox center?
It is important to choose a licensed rehab facility for drug detox to improve your chances of success at recovery. Besides, check the credentials and experience of the clinical staff and physicians before joining a detox center.
Furthermore, be sure to join a rehab facility that offers customized detox treatment based on each patients' medical needs. Make sure to choose a detox facility that offers 24/7 medical care and supervision to all its detox patients in a fully-equipped facility. Lastly, make sure to join a facility with the best inpatient rehab treatment options to attain wholesome recovery.
Our drug detox process
As a leading treatment center for drug detox in Colorado, we devise a customized detox plan for each of our patients based on their addiction circumstances. Our detox process involves the following steps:
Evaluation – Our clinical staff examines and conduct screening on all our patients during admission for physical and mental health issues. Our doctors conduct blood tests to measure the concentration of drugs in the patient's system and determine the medications and their dosages accordingly. We also conduct a comprehensive examination of each patients' drug, medical, and psychiatric history to provide them with customized detox treatment.
Stabilization – After a comprehensive evaluation, we stabilize our patients with psychological therapies and prepare them for the detox program. This step helps prevent any form of harm to the patients. Our experienced team of Doctors will prescribe certain medications to prevent complications in recovering addicts and to help cope with the withdrawal symptoms.
Preparing entry into treatment – This is the final step of medical detox, where we familiarize our patients with the treatment process and educate them on what to expect. Detox patients have the best chances of success at recovery when they follow up detox with inpatient rehab.
For more details on our drug detox in Colorado, call 855.218.7588 or visit https://www.redrockrecoverycenter.com/contact-red-rock-recovery/insurance-verification/. Red Rock Recovery Center is a preeminent detoxification center in Colorado with a compassionate and skilled staff team. We ensure that our patients attain a safe and speedy recovery with our highly effective Colorado alcohol detox program.