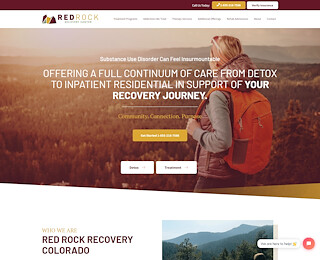 Red Rock Recovery Center is a leading detox center in Colorado with highly effective treatments and therapies. We are the #1 Colorado alcohol detox center, and we ensure that our recovering addicts regain control over their mind, body, and soul with a combination of proven psychotherapies and wellness programs.
Types of treatment programs we offer
Our clinical team conducts a thorough medical examination on each of our patients and recommends a course of treatment based on their medical needs. The four major types of treatments that we offer at our Colorado detox center include:
Extended care – This is a residential treatment program, where we engage our patients in a series of addiction therapies and programs such as medical detox, counseling, behavioral therapies, family and group therapies, 12-step programs, etc. We offer patients with addiction treatment for varying lengths to help them attain comprehensive recovery.
Partial hospitalization – Recovering addicts spend 8-12 hours a day in our facility and undergo rigorous treatment to help them regain control over their mind and body.
Intensive outpatient treatment – This is a step-down level of care from PHP treatment, and it allows patients to focus on their careers while undergoing addiction treatment.
Structured living – We offer gender-specific structured living arrangements for our patients where they engage in 12-step programs and try to obtain employment while also undergoing training on essential life skills.
We are a reputed detoxification center in Colorado with the best amenities, staff, and highly effective treatment programs. We equip our patients with essential skills to help them lead a drug-free life in the long-term.
Our addiction treatment process
At our facility for drug detox in Colorado, we begin addiction treatment with comprehensive physical, mental, and psychiatric evaluation on each of our patients. Based on the results of the health examination, we devise a customized treatment plan for each of our recovering addicts.
Ideally, we begin treatment with a medical detox program, where our licensed physician administers a series of drugs to remove the toxic drug remains from the recovering addict's system. After detox, we engage them in behavioral therapies where we identify the root cause of addiction and address the same with psychotherapies. We also engage patients in support groups, family therapies, and counseling sessions to help them embrace sobriety. After treatment, we strengthen our recovering addicts' commitment to sobriety with our ongoing care programs.
Top reasons to choose us for addiction treatment
We are a licensed rehab facility with comfortable accommodation, high-end amenities, and effective treatment programs. Our staff work closely with each of our patients and play an integral role in their journey towards sobriety.
We create a safe and supportive environment for our patients, where they heal and recover from dual diagnosis with peer support. We use evidence-based therapies and proven approaches to reduce the chances of relapse in individuals after treatment.
Visit https://www.redrockrecoverycenter.com/contact-red-rock-recovery/insurance-verification/ or Call 855.218.7588 to speak to one of us at Red Rock Recovery Center. We are a top-rated detox center in Colorado with a state of the art treatment facility, highly skilled, experienced doctors, therapists, RNs, and non-clinical staff. Our luxury detox in Colorado provides patients with the perfect environment for healing and recovery.