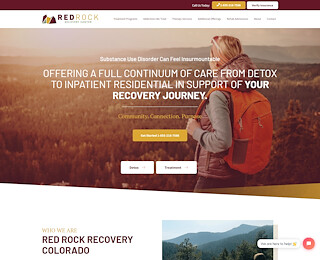 When someone has an addiction to alcohol, drugs, or both, they generally benefit most from some kind of inpatient rehab program during Denver inpatient rehab; the client is surrounded by a wide variety of support services.
To get the best results, it is imperative to look for high-quality facilities where the client can detox from the substance as safely as possible. After the detox phase, they will then transition into a series of group therapy sessions, individual counseling, and many other treatment programs. This is all done while surrounded by a safe environment where they have constant access to nursing staff as well as other health professionals.
Why Choose Inpatient Rehab?
When you select Denver inpatient rehab, you will see that it is necessary for recovery because it has the most diverse and proven program options. Professionals in the field of recovery will also tell you that this is often the best building block that an addict can have if they are looking to get onto a path to sobriety.
With a residential treatment center, the patient is shielded from any of the regular threats to their health found outside the doors. There is never any exposure to triggers or any outside stress factors that would otherwise hinder their progress. Instead, each client is within a safe environment that allows them to learn and also practice a broad selection of recovery skills even before they have to be tested back in the real world.
How It Works
Inpatient rehabilitation programs will usually start off with medically-assisted detox. During this detox phase, there are nurses and doctors on-hand that help each client overcome the withdrawals while in a safe, comfortable environment. While detoxification is never easy, the addiction specialists onsite help to provide services as well as medications that can make the process a bit more tolerable.
Once detoxification is complete, the patients will then move into the next phase with therapy. There are individual counseling sessions to go to along with group therapy, with some patients also taking part in family counseling, if necessary. It is all about finding the right Denver inpatient rehab that is going to give you a tailored approach with personalized care that is set to your unique set of needs.
The types of therapies that a patient may take part in while undergoing inpatient rehabilitation include:
Motivational interviewing
Cognitive behavioral therapy
Contingency management
Dialectic behavioral therapy, and more
A lot of the best programs will also include holistic treatments, exercise programs, educational sessions, support groups, and more. If you are interested in learning about Denver inpatient rehab for yourself or a loved one, we would like to talk with you at Red Rock Recovery Center. Our team is involved in support and guidance for all of our clients as well as their families so that you can all get through this long journey together. We have the programs and comfortable surroundings that you need to get on a path to healing and wellness while enjoying a sober lifestyle. We can be reached by calling (855) 218-7588.