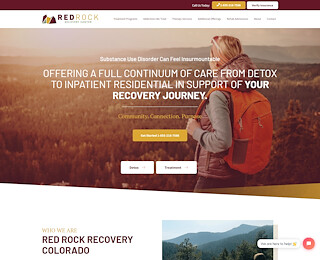 If you're ready to leave addiction behind, our Colorado treatment centers are open for you. At RedRock Recovery Center, we have built a community for people like you, looking to start life anew.
How to escape addiction?
The most effective way of overcoming addiction for good begins with joining a professional drug rehab program. On your own, you have little chance of coming clean. It's not because you do not possess enough willpower, but because of the withdrawal and the chemical changes within your brain.
To recover successfully and embrace a lifetime of sobriety, you need:
Medical assistance and detox to overcome withdrawal
Constant supervision and support throughout the treatment
Extended care
Structured living
Gender-specific programs to cater to your specific needs
Individual counseling
Group therapy and family support
Outdoor activities for spiritual growth
Personal development guidance, etc.
All these programs will contribute to changing your life entirely. At our center, you will learn how to cope with your cravings, avoid social triggers, and remain sober for the rest of your life.
The most successful treatment centers
The success of a treatment center doesn't depend on how many people have finished the rehab program. Rather, it depends on how many have remained sober over the years. It's no secret that many victims of addiction relapse at least once over their lifetime, with many of them returning to their old habits. At our facility, we have designed a system that almost eliminates that probability.
At our Colorado treatment centers, you will learn how to:
Regain your positivism and optimism
Fight off your negative thoughts and emotions
Understand your potential and solidify your willpower
Put your social, personal, and professional life in order
Rediscover your life's true meaning
Learn to forgive yourself and other people for past mistakes
Learn to adapt and become a better individual
Discover your true potential
Avoid social triggers and resist temptations, etc.
Experience has taught us that overcoming addiction takes more than sheer willpower. You also need the support of others around you, knowledge, medical assistance, a psychologically and spiritually positive environment, guidance, and much more.
Remain sober after rehab
Maintaining sobriety after the rehabilitation treatment is the Holy Grail of anyone battling addiction, and it is an achievable goal. Although addiction doesn't have a cure like flu does, you can live your life without it. And you can overcome its pitfalls. For that, you need to enroll in a certified rehab program under the guidance of a team of experts.
The length of the rehabilitation process, in the initial phases, can last from weeks to months. In its last phases, it will last for a lifetime. To overcome addiction, you will need to undergo extensive lifestyle changes, and we, at our Colorado addiction treatment centers, will guide you along the way.
Contact RedRock Recovery Center today and leave your addiction behind! It is time for you to begin a new chapter in your life. We are available for contact whenever you are ready to turn your life around.