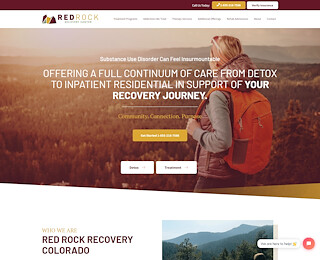 Addiction is a chronic illness that is challenging to treat and requires lifelong care. If you realize that you have become addicted to alcohol or drugs, either illegal or prescription, it's important to get yourself into treatment. Once you admit that you need help, the journey to recovery requires sacrifice and dedication; you have to be committed to getting your life and health back on track.
At Red Rock, we provide specialized programs to help our patients achieve sobriety and live a healthy and fulfilling life. In our Colorado drug rehab centers, we offer intensive outpatient rehabilitation for alcohol, opioids, benzodiazepines, and methamphetamines.
Types of Treatment for Addiction
The following are some of the treatment options available for individuals seeking addiction treatment.
Inpatient rehabilitation provides a drug-free environment at a rehab facility where medical professionals monitor patients and offer treatment. An inpatient treatment program is ideal for an individual who doesn't have somewhere supportive or safe to live. Inpatient is also recommended for someone who struggles to resist temptation and thinks they'll relapse at home.
An individual who needs to still go to work or who has family responsibilities may prefer outpatient care. Outpatient treatment is more flexible, not to mention it's cheaper compared to residential care.
Also, if you have support from family and friends, it would be better to attend treatment sessions while staying at home. Some people might not be comfortable in a residential program and prefer somewhere familiar.
In case you're interested in outpatient care but concerned about the available resources in the program, you can consider an intensive outpatient program (IOP). IOP offers different kinds of treatment and support services available in a residential program. Various studies have shown that residential treatment facilities and IOPs have similar success rates.
In an outpatient program, you'll need to be fully committed to treatment because you might be exposed to triggers and temptations. You can consider making lifestyle changes that will shield you from triggers.
Detox involves getting the substance of addiction out of your system while limiting possible withdrawal reactions. Depending on what you're addicted to, you will need different detoxification approaches.
Detoxification may require the use of medication to help with withdrawal when you stop using. You can be given medication to help reduce cravings and for the treatment of co-occurring disorders. Medicine is highly effective when used in combination with a sound therapy plan.
A sober living home provides a bridge between rehab and your home. After you leave an inpatient rehabilitation program, you may feel that you need more time to reinforce the lessons you learned while undergoing treatment. Sober living gives you this opportunity by offering a stable, structured environment.
Let Us Help You Overcome Addiction
Red Rock is a highly respected alcohol and drug abuse rehabilitation facility. We offer comprehensive treatment plans tailored to the needs of each of our patients. In our Colorado drug rehab centers, we endeavor to provide a safe and comfortable environment where you can start your recovery journey. For any questions or queries, call us today on 855.218.7588.